There are great laptops available now (as pandemic-fueled sales remain strong), and you can see our tested favorites below. But if you yearn for the latest and greatest, check out our news and reviews of laptops with AMD's Ryzen 5000 and Intel's Tiger Lake CPUs, and Nvidia RTX 30-series mobile GPUs. (Psst: We also have a list of the first laptops available with RTX 30-series.)
Here are the latest news and reviews, along with our top picks below. 
Latest laptop news and reviews
Here are the latest stories:
A gaming laptop that's…quiet? You heard right. Gigabyte's Aorus 17G ($2,700 on Newegg) is truly and shockingly quiet and fast during gameplay, as we saw when we tested it. Unless you're so obsessed with ultimate gaming performance that you'd gladly strap on headphones while your laptop's fans scream, the Aorus 17G should be on your short list–and it's our new top pick for best 17-inch gaming laptop. Read our full review. 
If your laptop doesn't have enough RGB, you can buy it with Razer's new Chroma Thunderbolt 4 dock and laptop stand. Friends and coworkers will be jealous!
Latest laptop reviews
Catch up on the latest models we've tested here, including: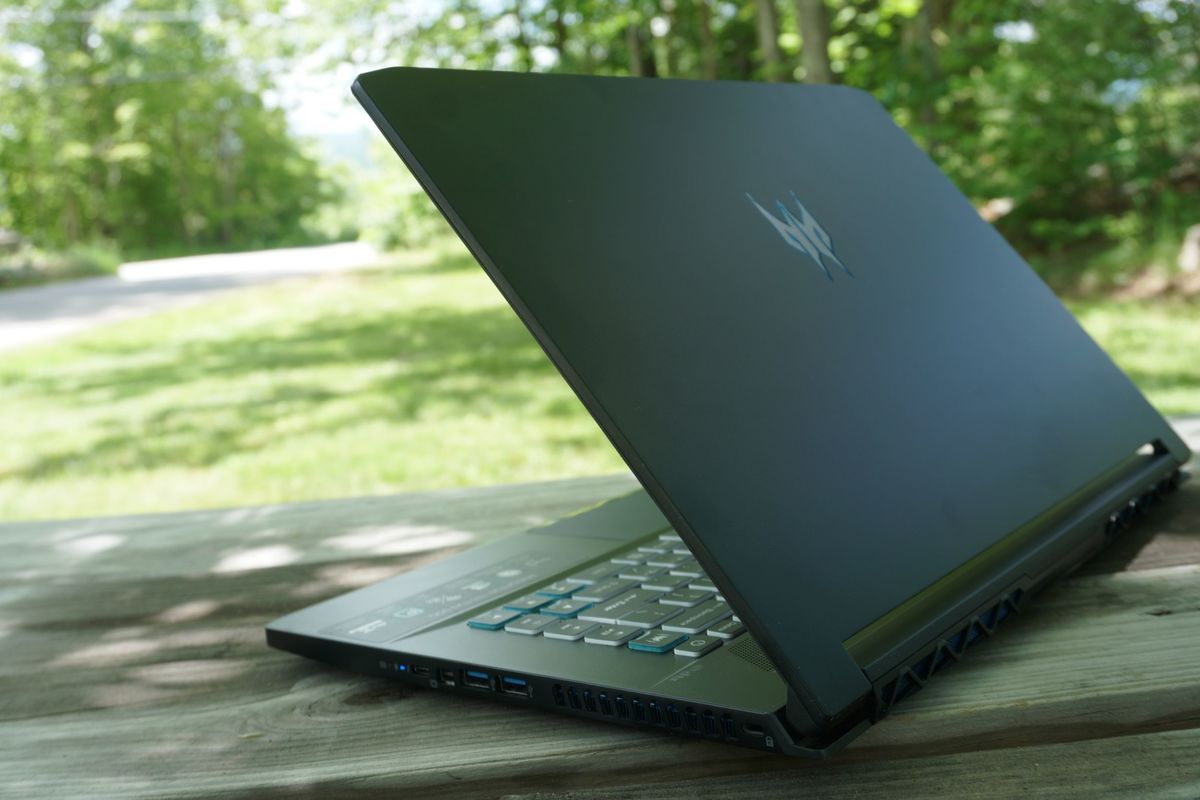 Okay, not everyone could afford the Acer Predator Triton 500 we just tested ($2,800 on B&H Photo), with its 6-core, 12-thread Core i7-10750H and GeForce RTX 2080 Super, all squeezed into a sublime 4.6-pound aluminum chassis with a lightning-fast 300Hz G-Sync display. But looking's free, and this is one gorgeous machine. Read our full review.
We just reviewed two gaming laptops that sport 300Hz screens. That ultra-high refresh rate makes looking at your screen all day a delicious experience. Read our reviews of the MSI GS66 Stealth ($2,999 on Amazon) and the Acer Predator Triton 500 ($2,800 on B&H Photo).
Are two screens better than one? The Asus ROG Zephyrus Duo ($3,699 on Asus.com) may be the first dual-screen laptop that gets things right. Read our full review.
Best 15-inch gaming laptop
The Acer Predator Triton 500 model we tested features a 15.6-inch, 1920×1080, 144Hz panel, an 8th-gen Core i7-8750H with 16GB of RAM and a 512GB SSD, and a GeForce RTX 2060. It's easily enough firepower to match laptops based on the slightly lower-cost GeForce GTX 1660 Ti, but it has the option to run DirectX Ray Tracing games, too.
If we were to ding the Triton 500, it would be for the SSD replacement. Let's just say, adding more storage to the Triton 500 won't be a five-minute affair. Read our full review of the Acer Predator Triton 500.
Best budget gaming laptop
The Acer Nitro 5 surpases what we expect of rock-bottom budget laptops. Its display is a bit dim, and its GTX 1650 graphics is only going to feel slower as time goes by. However its performance is solid overall, and its battery life is a nearly unheard-of (for gaming laptops) five hours. If you're looking for solid budget value, or if you plan to buy cheap and upgrade more often (a reasonable plan in the ever-advancing world of gaming), this is a respectable entry-level machine. Read our full review.
[$830 as tested via Bestbuy.com]
Runner Up
The Pavilion Gaming Laptop punches well above its weight in the entry-level range. It's every bit as sturdy and refined as its high-end counterparts, and it even has surprisingly respectable battery life. The Pavilion Haming Laptop has sacrificed a few things to hit that budget level, namely a dismal display and no mouse buttons. Still, with models starting as cheap as $800 on HP.com, you can configure this overall solid machine to fit your budget. 
Best 17-inch gaming laptop
Gigabyte's Aorus 17G gaming laptop, with its high-end parts and sharp-angled design, looks like it should be loud, but it's not. It's amazingly quiet, actually. We've heard ultraportable laptops produce more noise under a load than the Aorus 17G does while gaming.
It may spoil your fun a bit to know that Gigabyte achieved this feat by taking the RTX 3080 mobile GPU down a notch in performance. If you always want the ultimate gaming machine, you'll invest in a good pair of gaming headphones and put up with a shrieking hair dryer shaped like a laptop. But if you wished gaming laptops weren't so loud, the Aorus 17G grants your wish with a modest tradeoff. Read our full review.
[$2,700 MSRP as reviewed; available from Newegg]
Best budget 17-inch gaming laptop
HP's Omen 17 gaming laptops have a reputation with us that can be summarized in four words: solid performance. Surprisingly affordable.
Granted, its price has actually gone up recently because of a pandemic-fueled stampede of laptop purchases. Still, the Omen 17 has its place. Is it a looker? Debatable. Is it the best gaming laptop? Definitely not. But HP always manages to cram more hardware than you'd expect under the hood, then sell the Omen 17 way below market rate.
I'm not sure how HP pulls off this bit of wizardry, but it's made the Omen 17 a hit. And the trend continues, as the 2019 model we're testing (poetically monikered the 17-cb0040nr) packs in some of the latest and greatest CPUs and GPUs for hundreds of dollars less than the competition. Read our full review.
Best portable gaming laptop
The ROG Zephyrus G14 debuts with AMD's stellar Ryzen 9 4900HS CPU, and we can safely say: Just give Asus your money. This laptop packs a stupid amount of performance into a stupidly small and stupidly light (3.5-pound) frame. You're talking about a weight class that typically gives you lower-power CPUs and GPUs. Yet the G14 can hang in CPU performance with laptops that weight 10 pounds. 
Obviously the star of the show is the Ryzen 9 4900HS CPU, which we review in detail separately. But the Asus ROG Zephyrus G14 as a whole package is nearly as impressive. Read our full review. 
Best price-is-no-object gaming laptop
Alienware's Area-51m flagship gaming laptop is big, thick, and fast, a return to form that should reassure people who got worried when the company unveiled the thin-and-light Alienware m15 last year. The new Area-51m very well might be the first gaming laptop to bring the Holy Grail of features to consumers: Upgradable graphics and an upgradable CPU. Read our full review of Alienware's Area-51m.    
Runner-up
The Alienware 17 R5 packs Intel's debut high-performance Core i9 laptop chip, which turns this already beastly gaming laptop into an utter monster. The version we tested ($3,810 from Dell) pumps out more performance than we've ever seen in a gaming laptop with all-mobile parts. It offers over 55 percent more multi-thread performance than its already-potent direct predecessor. CPU benchmarks this fast were practically unthinkable. 
Read on for guidance on how to pick the right gaming laptop for your needs.